Our approaches
Legal advice
We offer legal advice to all people who visit our offices or contact us via our toll-free line 1022. Our legal advice encompasses a wide range of services such as legal counseling, mediation and reconciliation, referrals to relevant institutions, legal advocacy, assistance with birth registration and legal documentation, and more. This legal advice serves as a vital resource for individuals seeking to understand their legal rights and procedures.
---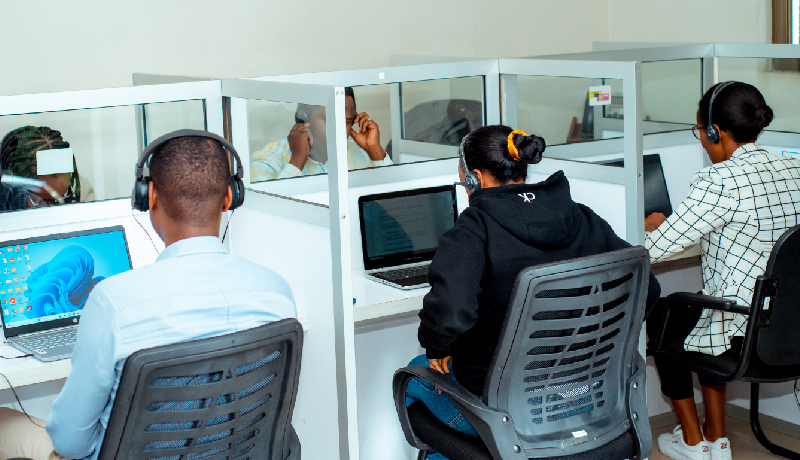 Legal advice by the call center
Dial our Toll-free legal aid helpline at 1022 to obtain legal advice from our lawyers regarding any legal concerns you may have. Our legal aid helpline operates Monday through Thursday from 8:00 am to 5:00 pm, and on Friday from 8:00 am to 3:00 pm.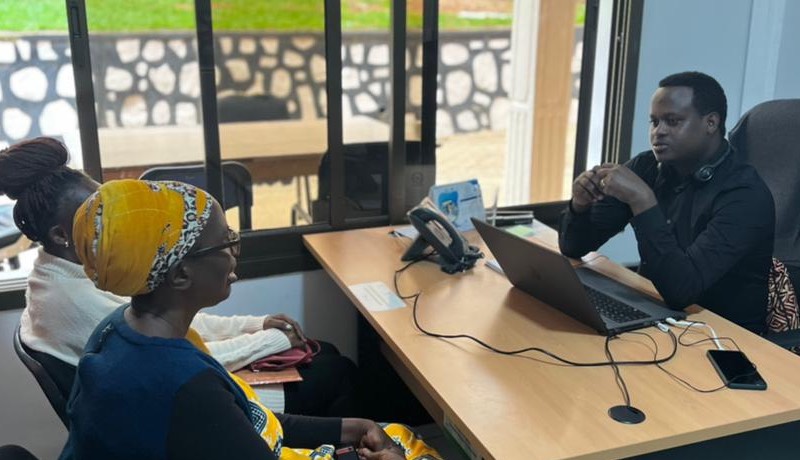 Walk-ins
Our doors are always open for anyone seeking legal counsel on any legal matter. You can walk in during our business hours and speak to our lawyer free of charge. Our offices are located in Kimihurura, KN 14, KG668 St Kigali - Rwanda.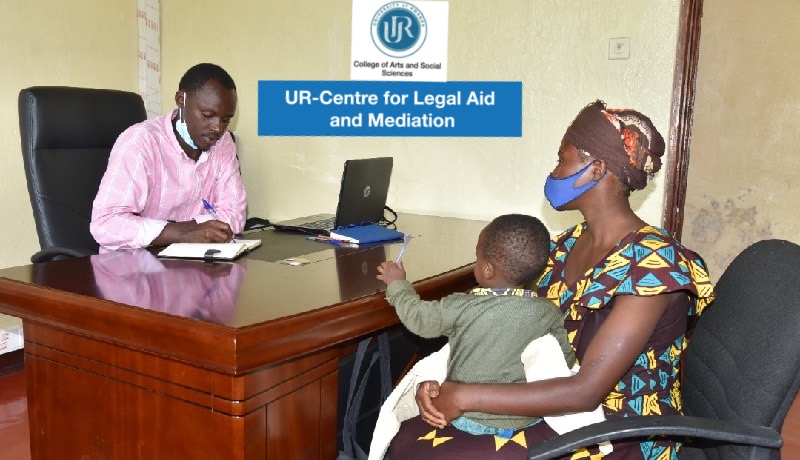 University Legal Aid Clinics
LAF has 4 University legal Aid clinics in its network which function as training facilities to expose law students to the realities. These clinics serve as valuable training facilities, exposing students to real-world legal scenarios. The students offer critical legal services, including advice, advocacy, and referrals to relevant institutions, to support vulnerable individuals in need of legal assistance.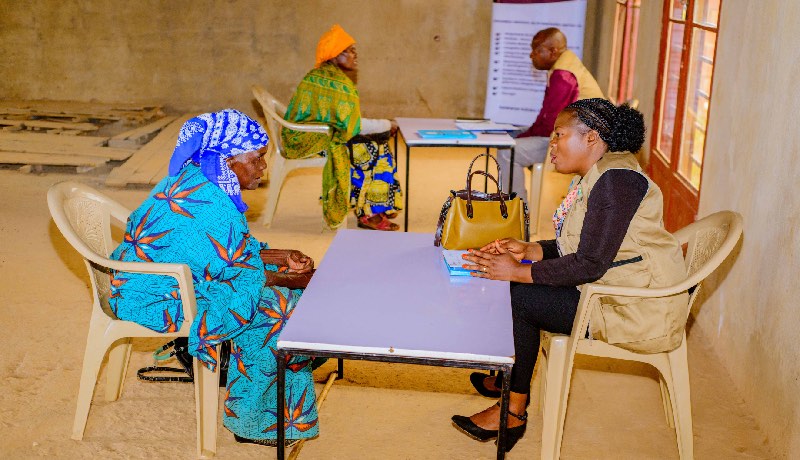 Mobile Legal aid Clinics
Mobile Legal Aid Clinics (MLAC) is an approach used by LAF and its members to bring legal services closer to the community. It involves paralegals, legal officers and attorneys going into their community and meeting beneficiaries in their neighborhoods to discuss and resolve their legal issues. Through MLACs, LAF provides a wide range of legal services including legal education, legal advice, orientation, referrals etc. Through this approach, LAF has expanded legal support to thousands of vulnerable citizens across Rwanda.
---
Legal representation
While legal representation is crucial in any legal case, poverty can prevent many underprivileged Rwandans from accessing this fundamental right. To address this issue, LAF offers free legal advocates to represent indigent and vulnerable litigants, including minors, victims of gender-based violence, refugees and asylum seekers, individuals with disabilities, detainees and prisoners, journalists, and others, in courts, RIB stations, prosecutions, and other administrative bodies.
---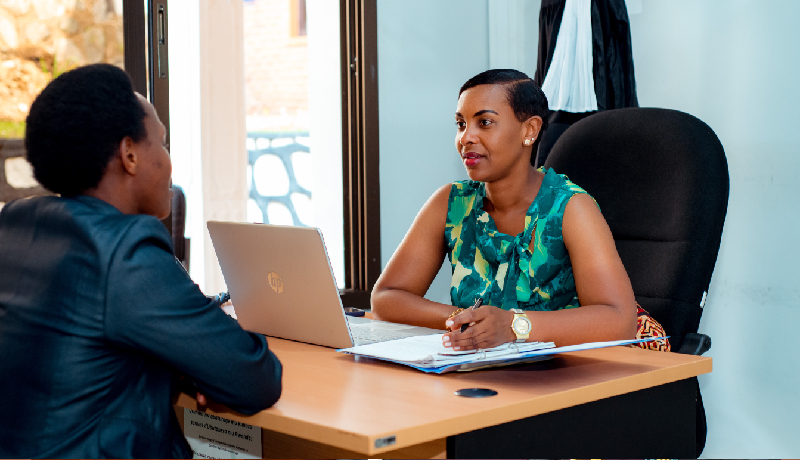 Gender-Based Violence (GBV) Victims
Gender Based Violence can take various forms, including physical, sexual, psychological, and financial abuse. A 2019 study by the World Health Organization found that 1 in 3 women worldwide has experienced physical or sexual violence in their lifetime. In our efforts to combat GBV, we provide free legal representation to victims and also cover costs associated with court fees, DNA testing, and signature verifications, among other necessary services.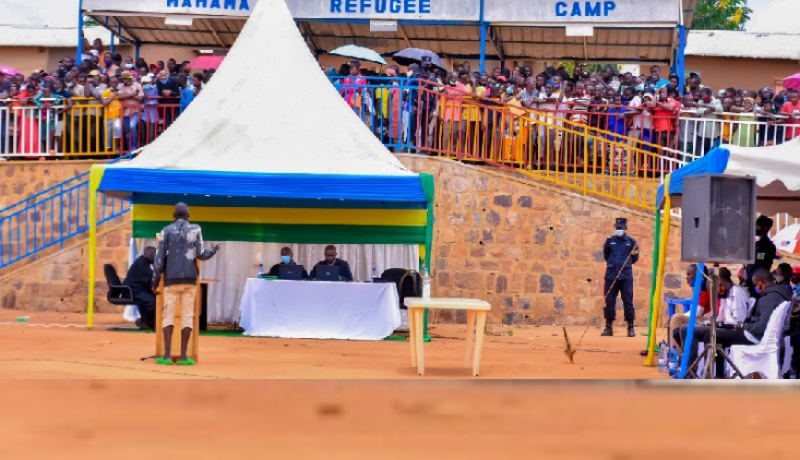 Refugees & Asylum Seekers
LAF is committed to offering legal representation to refugees and asylum seekers in Rwanda. We actively monitor detention centers to ensure that detained refugees and asylum seekers are treated with fairness and due process. We also provide legal assistance to asylum seekers throughout the entire asylum procedure, including drafting their refugee application and representing them in court if their application is rejected.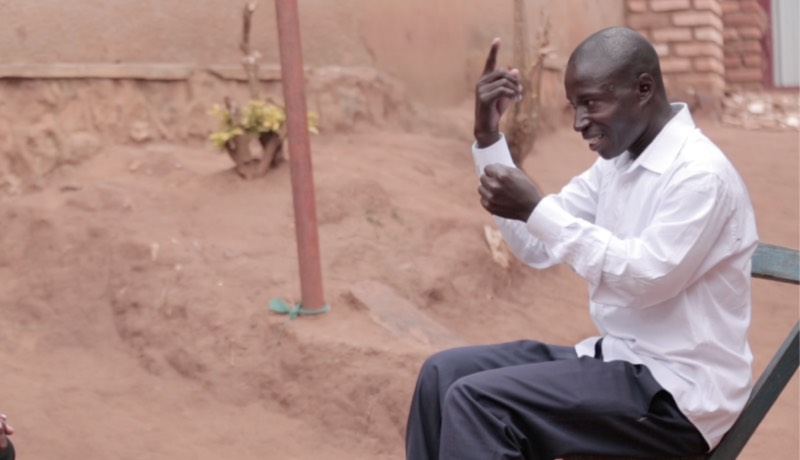 Persons with Disability
Persons with disabilities often face significant challenges in accessing justice, which can leave them vulnerable to human rights abuses. We are dedicated to providing legal assistance, including legal representation to persons with disabilities to ensure that their rights are protected. Our experienced team of lawyers works diligently to advocate for the rights of persons with disabilities, helping them navigate the legal system and addressing any obstacles they may encounter. Access to Justice, a Hurdle for People with Disabilities
Detainees & Prisoners
At the Legal Aid Forum (LAF), we offer free legal representation and legal advice to prisoners in Rwanda. We understand that prisoners, just like any other individuals, have the right to access justice and receive fair treatment under the law. We are committed to ensuring that prisoners have access to legal aid and can seek justice, regardless of their circumstances.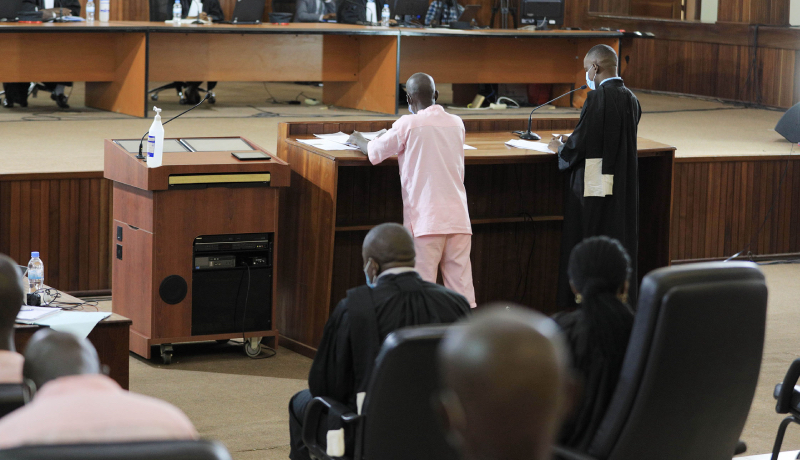 Journalists
Like in many other countries, journalists and content creators in Rwanda need legal assistance. Our past records indicate a high number of journalists and media outlets that face legal actions but oftentimes cannot afford legal services. Under our strategic objective "Promotion and Protection of Human Rights", we offer journalists legal assistance including legal advice and representation in judicial and other administrative organs due to their specific vulnerability as frontline human rights defenders.
Legal Education / Awareness
Vulnerable and indigent people across Rwanda are finding it more and more difficult to obtain correct legal information, and understand legal frameworks and their rights within them. The Legal Aid Forum works to empower the Rwandan population, especially indigent and vulnerable people to use the law, formal and informal justice mechanisms, and dispute resolution to assert their rights and advance their interests.
---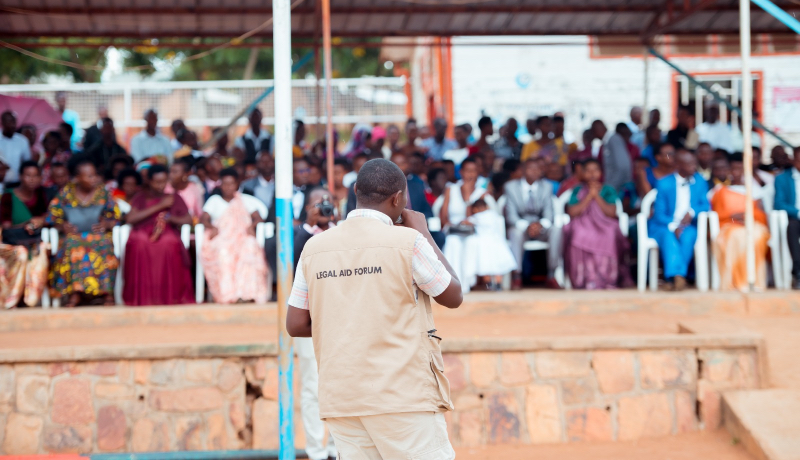 Legal Aid Week
Since 2009, LAF collaborates with other justice sector institutions to conduct Legal Aid Weeks (LAW) with the objective of offering intensive legal education on laws to citizens. Conducted annually, this country-wide activity involves lawyers, paralegals, and legal officers traveling to specific regions of the country, raising legal awareness. During the week, legal offices also provide legal assistance such as representation and advice to vulnerable and marginalized individuals such as minors in conflict with the law, nursing and pregnant mothers in detention, the sick and elderly, women, people with disabilities, and many more.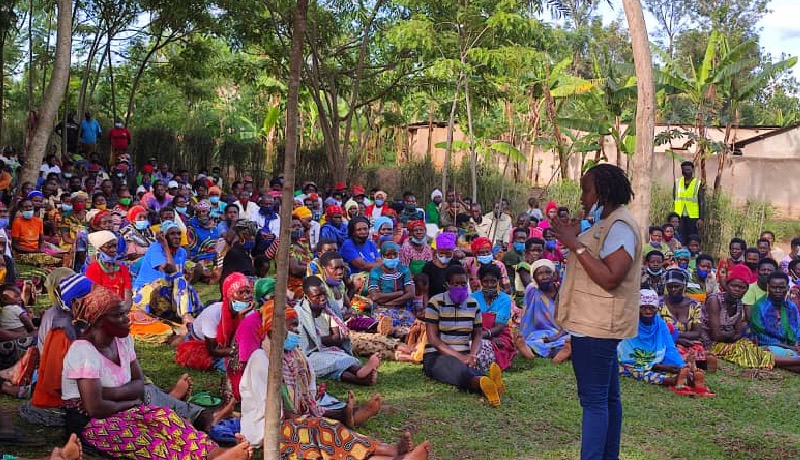 Legal Awareness by Paralegals
Rwanda has over 3,000 community-based paralegals. National Paralegal Network was established in 2013 with the assistance of LAF to bring together all paralegals within LAF member organizations. LAF deployed community-based paralegals in all 30 Districts of Rwanda, to provide free quality legal services to the Rwandan population. Services they offer include: Legal education/awareness raising, Legal advice, Mediation, Referrals,Accompaniment.
Read More about Paralegals Manuel
Learn More about Paralegals work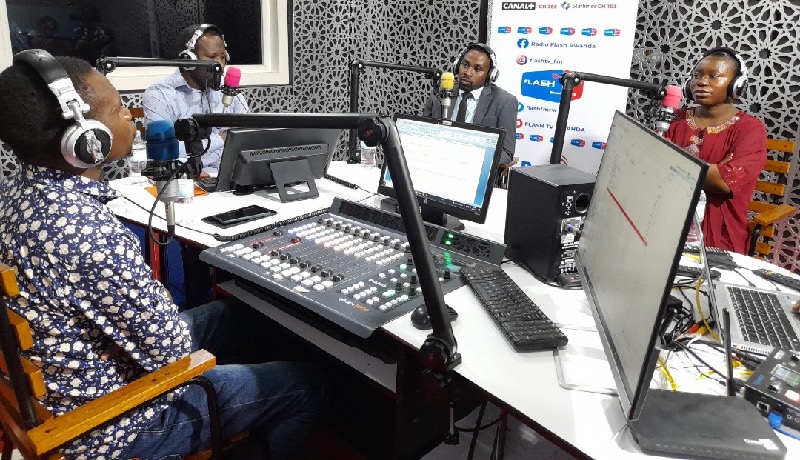 Legal Education Through Media
LAF's proactive approach to media engagement allows the organization to do advocacy on several legal issues as well as make its pro bono legal services known to the Rwandan population and how to access the abovementioned services. Working with the biggest media houses and taking advantage of their wide coverage and popularity among the population, LAF uses TV and radio stations to educate citizens on their legal rights. As a result of the good rapport LAF has built with the Rwandan media sector, the organization has become the go-to for legal aid information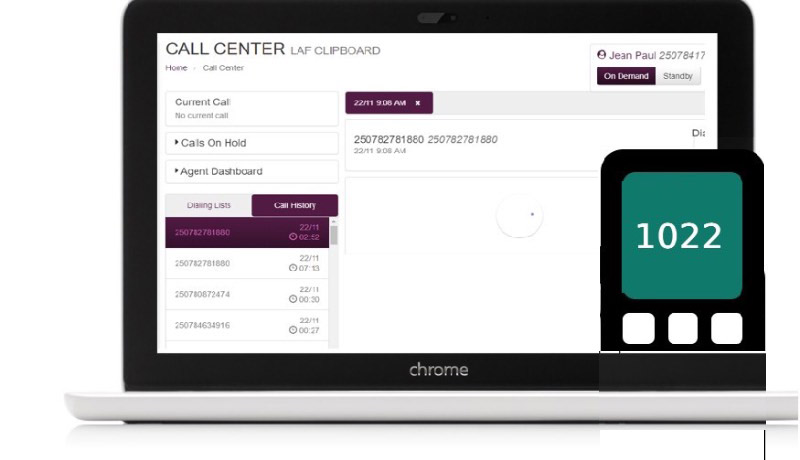 ICT for Justice
We have curated legal content intended to educate citizens on laws and rights. At any time, any citizen can call our legal aid help line 1022 to learn about certain laws.
Learn More
---